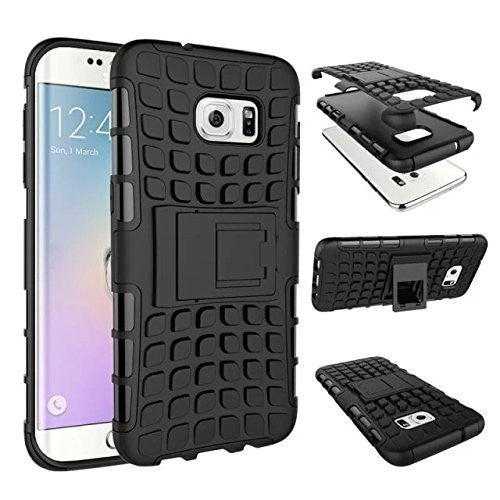 Get Yourself a Rugged Phone Case For Your Samsung S7
You're clumsy and have a track record of shattering more Smartphones than the average American.
You were just gifted a brand new Galaxy S7, and don't want it to become another one of your innocent victims. Rugged phone cases are a good option.
The Verdict Is Here – Rugged Phone Cases Perform Well In Protecting Your Smartphone!
The job of a rugged Smartphone case is simple. Protect your device against rough treatment. This means your expensive Samsung S7 or iPhone 7 will be secure even if dropped, bumped, tossed down, and smashed—provided the device is encased in a protective case.
In fact, no other type of phone case does such an amazing job at protecting what's encased inside. The question is how?
Provides Three To Four Layers Of Sturdy Protection
Unlike TPU plastic phone cases, this type of cover encases a phone in 3–4 layers of protection. The first is a soft silicon layer that cushions the device.
A hard plastic layer is next, bringing strength and sturdiness to the case. The third layer is more for user comfort than additional protection although the added hard or soft layer does help with handling.
Most Smartphone users with a rugged case outfit their phone with a second clip-on case that be attached to a belt holster and offers a screen protector, corner protectors and other features.
Invest In a Full Body Rugged Case for Your Smartphone Today
Newer models of Smartphone devices are expensive yet we are careless when it comes to treatment of our phones. It isn't surprising at all that 12% out of 23 million Americans toss their phones "in a fit of passion" while watching the SuperBowl or another sporting event.
Such rough treatment of expensive devices requires heavy duty protection, brought to you by the rugged phone case. Here is how:
Features responsive physical and covered buttons for full command
Precise cut openings that allow easy access to all phone functions
Dual later protective case (polycarbonate hard shell exterior and flexible TPU inner core)
Built-in kickstand that allows safe standing on surfaces for hands-free mode
While most rugged phone cases aren't pretty to look at, this one comes in 3 beautifully vibrant colors (red, orange, white) besides standard black. Get yours now!