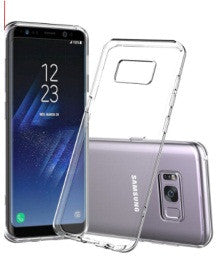 Will You Be Using A Case For Your Samsung S8?
The question of whether you use a case for your smartphone really comes down to personal preference.
However, Samsung S8 has certainly be causing problems for owners. As good looking and sleek as the phone is, it is quite slippery. The beauty of the metal aluminum frame comes at the cost of a butter finger grip.
There are plenty of issues here. First, the Samsun Galaxy S8 is relatively new and has multiple features, which means there is still a lot of time before any useful cases come up.
Next, even the fingerprint sensor at the back is difficult to find as it is largely shadowed by the sleek glass back. Lastly, the screen, although it is the latest Corning Gorilla Glass, is still glass. And just like all the other smartphones you owned, that guaranteed screen protection against scratches, you are going to drop your S8 some point time and realize that was too hard a drop for the screen to handle.
So, the logical thing to do is to invest in a Samsung S8 case. It is an expensive phone and you don't want to be facing issues with it any time soon.
What Is The Perfect S8 Case?
Again, that depends. However, considering the features of the phone including the glossy finish, the location of buttons and most importantly, the location of the fingerprint sensor, it wouldn't be a good idea to go for a hard wallet style leather case.
First off, this case would make it hard to use the phone by making the fingerprint sensor inaccessible, on top of that, it will make your phone look bulkier. And isn't buying a Samsung Galaxy S8 all about showing off its sleek features?
Meet The Samsung Galaxy S8 Slim Case Clear Transparent Thin TPU Silicone Soft Cover Rubber
Perhaps the best cover for your Samsung Galaxy S8 is the a thin TPU silicone soft rubber cover that accentuates all of the outstanding features, while giving you a good grip and minimizing chances of damage upon impact.
The Samsung Galaxy S8 Slim Case Clear Transparent Thin TPU Silicone Soft Cover Rubber is designed to help you achieve all of that at a really affordable price tag. Check it out.
Stay updated with our website for more Samsung Galaxy S8 cases and leather cases for iPhone 6 Plus.